Cossington blossomed again in 2022 with the return of Secret Gardens on the 28th & 29th May! Having been dormant during Covid  it was wonderful to see the village community burst into life again with dozens of villagers volunteering their time and efforts to make this the best ever Secret Gardens!!
It  was remarked by more than a few that the planned new Cossington Village Centre would provide such a fantastic  harness for this wonderful civic energy – which only enjoys this one outlet every two years – and give rise to many more village occasions and events !!
Committee:
Stephen & Lynn Castleman, Penny Weston-Webb, David Mumford, Vic Chapman
Steve & Margeret Budding, Katrina Waddley, Malcolm & Janet Kitching,
Lynne Ford, Mark Brown, Lisa Graham, Barbara Orridge, Carol Rowlett
Message from Stephen Castleman , Chairman
"My heartfelt thanks go to everyone who helped make the 2022 event held at the end of May such a success. Be it selling passports or making tea, running the tombola or selling plants, manning the church or pimms and hot dogs, running the raffle or selling cakes, or simply visiting the gardens and attractions, I think it was a most successful, and I trust, enjoyable occasion for all.
This year we were blessed with good weather and it was great to see the village buzzing with so many visitors, contributing to a near record year with over £16,000 raised!
I feel it is wonderful occasions like this, together with the social events that are held, that are the life blood of the Friends of All Saints Church (FASC), as not only do they raise funds and awareness for our worthwhile cause, but also they give the whole village an opportunity to join together, building on the tremendous community spirit we all enjoy in our village.
Same again in 2024 ?! And if you would like to join the committee, do let me know!
I am most grateful to the Cossington Project Group who were in attendance at the church throughout the weekend. Their display and presentation explained where the project is up to with the goal of creating a new village centre, hopefully commencing in 2023/2024, funds permitting, creating a wonderful facility for use by all."
Feedback from visitors
Dear Stephen, please pass on our thanks to the residents who opened up their gardens, we cannot express enough the pleasure we had walking around them. Everyone had gone to so much trouble and we had a wonderful time. Many thanks to all involved, not just the gardeners. Regards, Lynda Sleath
I'd just like to say how much we enjoyed our day out at your secret gardens of Cossington. As a village which I normally only drive through on my way home to Mountsorrel, I was fascinated by the history of your patch. We were particularly impressed by the A4 information sheets that were dotted all over the place…full marks to whoever thought up that idea. My partner, who is a gardener, was delighted with the plant stall and its very knowledgeable owner….the boot of our car was crammed with latin named greenery, which as we speak is being planted. We ran out of time, but are determined to return to explore some of the foot paths that lead off from the field used as a car park, adjacent to the church. I hope you made a huge profit for your fundraising. Best regards, Erik and Yvonne
===================================================
Unfortunately Secret Gardens 2020 had to be cancelled due to Covid-19! We have left up our report on the 2018 event  to remind us of happier times!
====================================================
Secret Gardens was back by popular demand  over the 2018 May Bank Holiday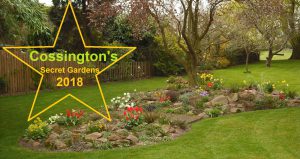 Indeed this 2018 festival of horticulture & heritage topped our 2016  event!
Click the picture below to see some of those previous 2016 shenanigans!
2018 had more gardens and more stalls and street shows than ever before!
Many visitors got right into step with the  Live Music 
Radio Leicester's Down to Earth Karen Gimson & Josie Hutchinson rocked up!
Many Lost Stories of Cossington were aired again!
There was pause for thought at our Centenary World War I Exhibition
Lots of the nostalgia to appreciate at the Village Heritage Display.
A few green eyes admired the Collection of Vintage & Classic Cars
And the Hedgehog Hospital was quite a surprise! (Cossington Meadows stall)
A Roaming Magician tricked his way in and bewitched many with his spells.
The impressive Leicester Model Railway Group was the mother of all displays!
The Arts & Crafts displays brought an X-Factor to the event!
The Cream Tea's & Pimms were sold out!
(as were the Posh Cakes & artisan Ice Creams!)
But thankfully the Royal Oak did not run out of beer!!
Money raised through our secret garden events being saved for our new Village Centre.
Previous results
2018  £16192.79
2016  £13,066.86
2014  £10237.10
2012  £6464.86
2010  £8103.06
2008  £10061.40
2006  £8074.84
2004  £12330.77
2002  £7200.04