Cossington blossomed again in 2022 with the return of Secret Gardens on the 28th & 29th May! Having been dormant during Covid  it was wonderful to see the village community burst into life again with dozens of villagers volunteering their time and efforts to make this the best ever Secret Gardens!!
It  was remarked by more than a few that the planned new Cossington Village Centre would provide such a fantastic  harness for this wonderful civic energy – which only enjoys this one outlet every two years – and give rise to many more village occasions and events !!
===================================================
Unfortunately Secret Gardens 2020 had to be cancelled due to Covid-19! We have left up our report on the 2018 event  to remind us of happier times!
====================================================
Secret Gardens was back by popular demand  over the 2018 May Bank Holiday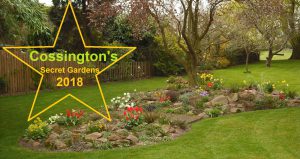 Indeed this 2018 festival of horticulture & heritage topped our 2016  event!
Click the picture below to see some of those previous 2016 shenanigans!
2018 had more gardens and more stalls and street shows than ever before!
Many visitors got right into step with the  Live Music 
Radio Leicester's Down to Earth Karen Gimson & Josie Hutchinson rocked up!
Many Lost Stories of Cossington were aired again!
There was pause for thought at our Centenary World War I Exhibition
Lots of the nostalgia to appreciate at the Village Heritage Display.
A few green eyes admired the Collection of Vintage & Classic Cars
And the Hedgehog Hospital was quite a surprise! (Cossington Meadows stall)
A Roaming Magician tricked his way in and bewitched many with his spells.
The impressive Leicester Model Railway Group was the mother of all displays!
The Arts & Crafts displays brought an X-Factor to the event!
The Cream Tea's & Pimms were sold out!
(as were the Posh Cakes & artisan Ice Creams!)
But thankfully the Royal Oak did not run out of beer!!