Children line up to Quiz the Archaeologist!
An enthusiastic class from the School spent a very informative hour with archaeologists Leon Hunt and Sue Henderson explored the secrets of the church floor. They kindly explained the purpose of their role and discussed their findings with their fascinated visitors.
They found some fragments of pottery, an old coin (a 1925 6-pence!) and some pieces of bone including half a collar bone and part of a foot bone! Mr Hunt surmised that these bits of dis-articulated bone, found just 30cms under the floor tiles, originated from churchyard soil which the Victorians brought in when they laid the present black and red floor tiles.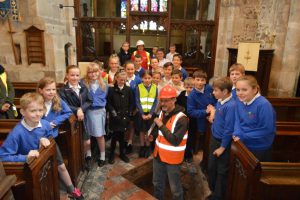 However the children were much more interested in the gory details of the bones with plenty of questions and speculations! (click on photo to enlarge)
Sue Henderson presented the children with the six pence she had found to remind everyone of their visit.
Deputy head teacher Mr Rob Salt (now retired) thanked Leon and Sue and reminded the children, " how privileged they were to have had this opportunity, right here in their village church, to learn about archaeology and the history of their community, which is something most people might only see on television".
For further information on school life please visit www.cossingtonschool.org
Term dates 2022/2023
Autumn Term
August Bank Holiday: Monday 29 August 2022
Schools open: Tuesday 30 August 2022
Half term break: Monday 17 to Friday 21 October 2022
Schools close: Friday 16 December 2022
New Year Bank Holiday: Monday 2 January 2023
Schools open: Wednesday 4 January 2023
Half term break: Monday 20 to Friday 24 February 2023
Schools close: Friday 31 March 2023
Schools open: Monday 17 April 2023
May Day Bank Holiday: Monday 1 May 2023
Half term break: Monday 29 May to Friday 2 June 2023
Schools close: Thursday 13 July 2023