Cossington faithfully remembers the sacrifices of its sons and daughters every year. However 2018 was special indeed. Around fifty people attended our Centenary Act of Remembrance on Sunday 11th November, nearly four times more than normal, thanks perhaps to it being such a special anniversary occasion.  It was dry over head as the sun made a brief appearance whilst Church Warden Malcolm Kitching officiated.
The Parish Council had quite thoughtfully fixed large poppies on lamp-posts along Main Street and the flag was flying at half-mast.
The event was made all the more moving with the haunting notes of the trumpet sounding the Last Post  just before the 'silence', and the Reveille marking its end.  We are especially grateful to Cadet Luke Bartlett from Ratcliffe College for making the occasion very special in this respect.
After our Act of Remembrance everyone went across to the Vestry for some hot coffees & nibbles and also to see the WW1 commemorative display in the Church which was curated by our new village Heritage Group.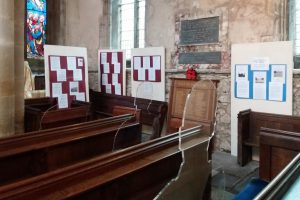 The Heritage Group had laid on a fascinating series of photographs with copies of records detailing things that were happening in the village during the war. Not many people were aware that we had Belgian refugee schoolchildren in the village, as indicated by the headmasters remarks recorded at the time, but we don't know where they stayed?
However most moving were the silhouettes of three soldiers in the pews which really made people stop and reflect. To remember that these men of Cossington who died would most certainly have sat in these pews and prayed before being transported to the 'front'.
1914-1918
BERNARD ROGER WALTON
HAROLD KIRKBY
CHARLES HENRY HUDSON
1939-1945
PETER BECKINGHAM REYNOLDS
NORMAN BOTT
PERCY HARRY BOTT
WALTER SHARP
KATHERINE RENSHAW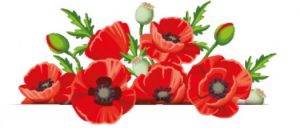 100 YEARS OF REMEMBRANCE