The Cossington Heritage Group is an informal village group formed early in 2018. Its long-term aims are to research, record, preserve and share the heritage of Cossington in Leicestershire making this heritage accessible to residents and visitors and to inspire future generations to value the heritage of Cossington in all its facets.
The group organises meetings and events in the village to share research and artefacts based on Cossington Heritage in its widest sense –  village life, former residents, church history, houses and buildings, archeology, flora and fauna and geology.  For details of past and future events, please see below.
For more information on the Cossington Heritage Group and to become involved, please contact Lynne Ford on lynne.ford2 'at' btinternet.com or 01509 813 915.
Future events
History Cafe – 3 August 2018 from 3pm-5pm, Jubilee Hall, Cossington.  Come and share tea and cake, reminisce, look at old Cossington photos and maps and share stories.
Past Events
Public Meeting – 10 July 2018 at the Royal Oak Skittle Alley.  This event was held to share the aims and hopes of the Cossington Heritage Group.  The evening included six Cossington Stories –

A poster on the Royal Oak for a show at the Palace Theatre in Leicester
The Smallpox Isolation Hospital
The Cossington choir on strike!
Plato Smith, a clothes peg and skewer maker, buried as a stranger in the Cossington churchyard
The Harrison brothers, WW2 soldiers
Cossington and the Australian Gold Rush

Cossington Heritage Display – 26-28 May 2018 in the Cossington Church.  This display of photographs,maps and illustrated stories was held to coincide with 'More Secret Gardens' and was attended by over 900 visitors including families with children.
Become involved and visit this page for more updates where  historical research, photographs, anecdotes and information will be shared.  Consider joining the group and sharing your own research.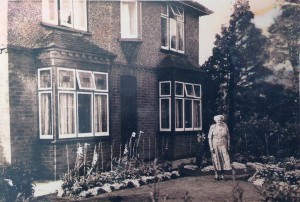 In the meantime, does anyone know who this is ….  (click on photo to enlarge)
Another point for identifying the house…